Terrace Level Renovation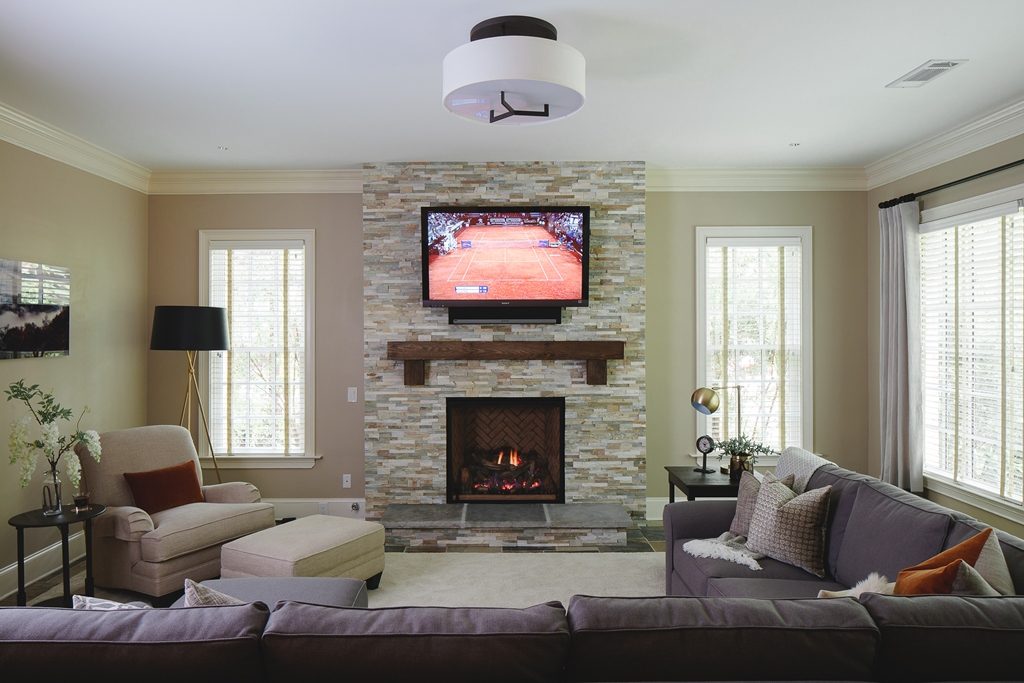 Great to work with. Creative. Careful. They not only built our home (a spec house), but have done at least five renovations, including a kitchen, master bath, and a playroom. Have worked with them for 30 years. Their sub-contractors work very well with them. We have and will continue to recommend them to others.
Our clients wanted to update their little-used basement into an entertaining area complete with a wine cellar, game tables, and a fireplace. They also wanted to update their existing terrace level kitchen.
This space had good bones; there was no need to move walls, and in some cases we were able to work with the original materials during our remodel.
This renovation project was featured in the July '16 issue of Atlanta Home Improvement magazine, which can be accessed here.
---
Creative Features
Fireplace
Originally, this space had no fireplace. We installed a fireplace box and used stone cut into ledger tiles to create a fireplace.
Doing this helped pull the living room together by giving it a beautiful focal point.
Compact Wine Cellar
Our clients knew they wanted a wine cellar, but finding space for one was initially a challenge. We ended up artfully tucking the wine cellar under the stairs, and used smart storage solutions to create a beautiful and organized look.
The custom steel and glass door of the wine cellar is a bold piece that draws the eye.
Kitchen
Per the homeowners' request, we gave their terrace level kitchen/bar an update to help the style fit in with the rest of the home.
Rather than replace the knotty pine cabinets, we patched and painted them, and then installed a new glass backsplash as an accent piece.
Finally, we added LED lighting inside the kitchen cabinets and a wired-in A/V system.
---