Contemporary Master Bath Remodel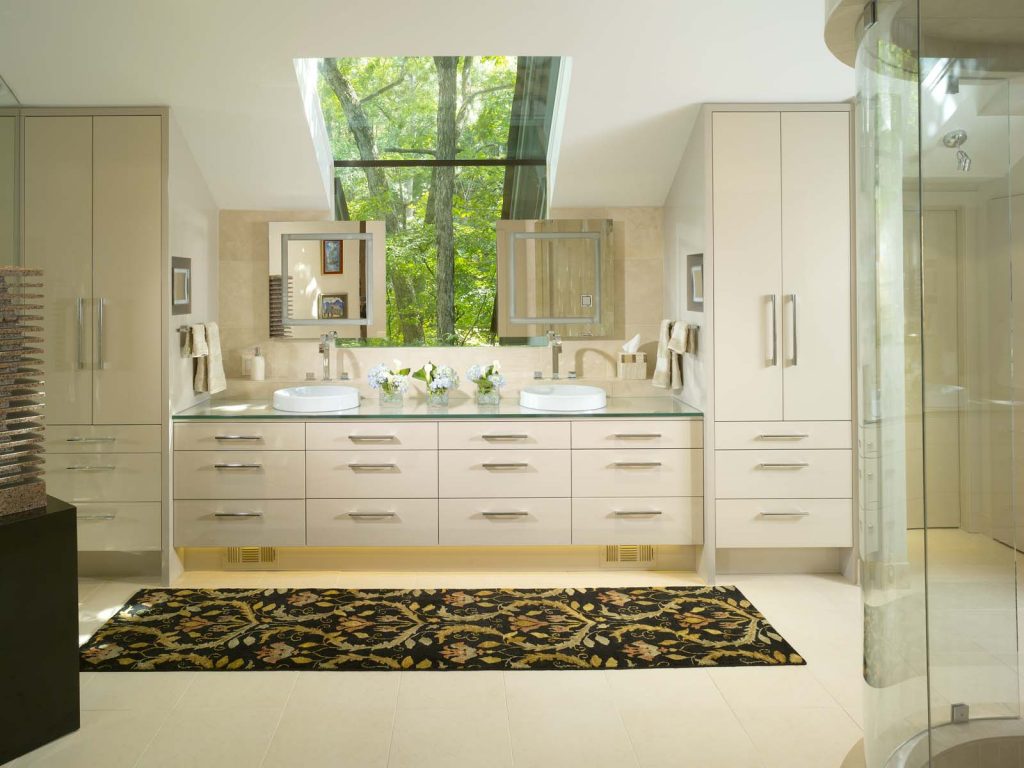 For this master bath renovation, our clients requested an updated modern space that was soothing but with a WOW factor. They also wanted better functionality, more storage options, and more efficient insulation and air sealing.
---
Achieving Functionality Without Sacrificing Design
The tub was eliminated, and efficient vanity cabinetry was installed where the old garden tub had been.
The curved shower features: body sprays, steam, bench, and a handheld showerhead.
"Cold and drafty" was attacked with a vengeance. The amount of air leakage in the room was lessened by installing foam insulation in the cantilevered floor system, the walls and the rafters.
We used a better designed duct system and airtight sealing of the ductwork to improve the function of the system.
---
Aesthetic Enhancements
Balance & symmetry were created with a vanity that is a reflection of itself on each side.
Line & rhythm was emphasized with a shower that curves with the traffic pattern.
The glass to the outdoors did not become mirrors over the vanity; instead, it became a central feature of the design.
The floor to ceiling mirror next to the cabinets creates even more openness.
The neutral color palette is a canvas for art.
The bath design was based on clean lines – no clutter. As an example, the shower niche has an obscure glass door, the towels are slightly recessed in the wall, the make-up mirrors recess in cabinet niches when not used, and laundry baskets are behind tall cabinet doors.
The 8' ceiling was vaulted and an additional skylight was added up higher.
---
Combining Engineering and Art
To vault the ceiling, an LVL was added to support the wall above the bath that supported the highest roof area. This LVL required – on one end – a footing and post in the basement below. The other end needed 4 LVL's installed between the multileveled floor system in the ceiling of a bedroom/bathroom below.
A flitch plate was installed at the roof of the cantilevered space and the vault.
The cantilevered floor system needed increased support as it would no longer be supporting plants that surrounded the garden tub – where overwatering had damaged the existing floor system – it  would now become the vanity and plumbing wall. The engineering plans required sliding the new joists supporting the cantilever into the floor system from outside and strapping them to the ceiling joists below.
A double vanity wall was built for insulation purposes and to create a ledge for the faucets.
---
Awards
Handcrafted Homes, Inc. won a 2010 CotY award in the category "Residential Bath Over $60,000" for this remodel.
---