Modern Townhome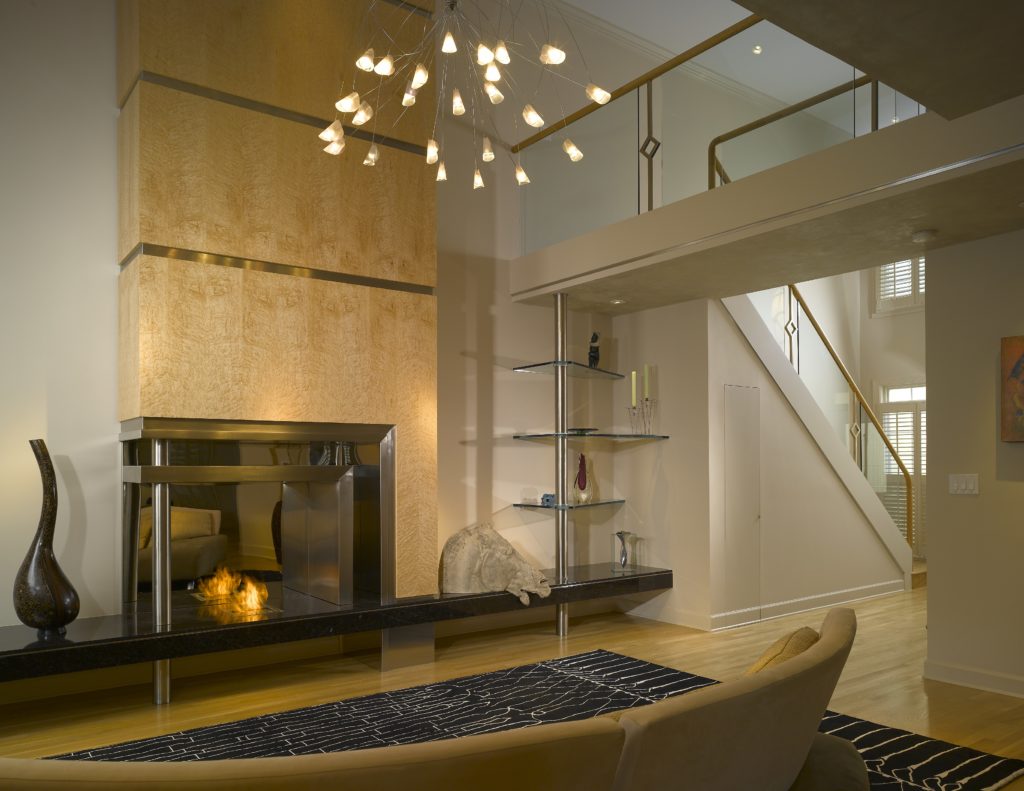 This traditional townhome was dramatically redesigned into a modern, urban abode. In particular, our clients challenged our firm to design and build a modern fireplace. The traditional design of bookcases and cabinets on either side of the fireplace was changed to create artistic display shelving and hearth ledges for sculpture.
---
Architectural Challenges
The original fireplace in this town home was a 36" gas firebox, which was not able to burn wood. Visually the box was too small, inset on a wall that extended to the top of the vaulted ceiling. The standard mantle, its marble surround, and the small firebox looked out of scale in this setting.
With 8' high bookcases filling the walls to the left and right of the fireplace, the vision of the twenty-one-foot-long wall became very horizontal and busy. The fireplace was lost within this setting. The bookcases busily dominated.
---
Functional, Eco-Friendly Solutions
The existing gas fireplace was improperly sized and vented. When used, it left smoke marks around the marble surround. The new EcoSmart fireplace has self-contained ethanol burners, meaning no gas or electrical utility connections.
Our clients wanted the look of wood veneers on the fireplace, but first we needed to shield the blue flame with fire resistant materials. We developed the design for the firebox using brushed and polished stainless steel in a multi-dimensional fashion.
On the remainder of the fireplace, the maple veneers were made into book-matched sections to create a dramatic compliment to the stainless steel. The granite hearth was elevated to float across the floor supported by steel in the wall and stainless-steel columns.
---
Shelving
We loved the steel columns at the fireplace and under the hearth. We kept the same theme and spun irregular pieces of glass around the steel column. This placement allows for tall art pieces to protrude into the gaps of the glass shelves above without obstruction.
We supported the shelves with stainless steel rings designed to appear as mechanical nuts. (Picture below.)
---
Awards
Handcrafted Homes, Inc. won 2008 National and Region 2 Southeast CotY awards in the category "Residential Interior Specialty."
---