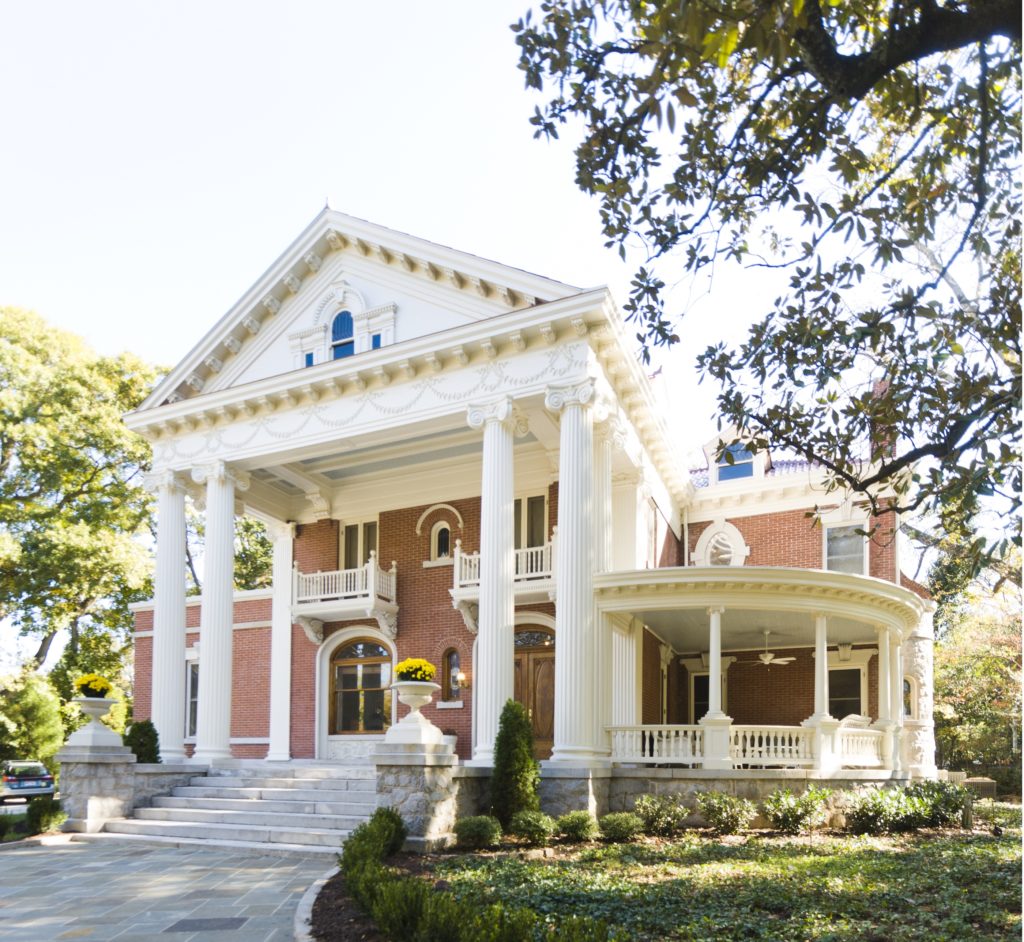 How to Restore a Home
This historic Atlanta home – built circa 1910 for Asa Candler, the founder of Coca-Cola – was in desperate need of restoration and repair.
To restore this home to its original glory, we faced a multitude of tasks:
     1. Replace the original roof and repair roof framing.
     2. Repair/replace the curved portico.
     3. Replace the tile on the porches.
     4. Repair/replace the Ionic columns, plus the entire entablature.
Luckily, we love a challenge!
We strove to restore this home with similar designs and similar materials wherever possible. The Handcrafted Homes team had several obstacles to overcome, but thanks to our team's meticulous research and creative problem-solving, our hard work resulted in a stunning restoration.
---
Discovering Obstacles
The curved porch demolition exposed a completely rotten structure – we felt amazed that it was still standing! Additionally, a previous owner had cut joists to install lights and fan.
The coring and testing of the soil through the substrate of the tile revealed that the dirt underneath was not compacted; nor was it able to adequately support the slab.
Plus, there was so much structural damage at the tops of the columns/capitals/entablature, the columns had to be locked together with 2×4's to keep them secure as they were repaired.
The greatest challenge, however, came from the need to restore the home using similar designs and materials.
---
Finding Creative Solutions
Roof Tiles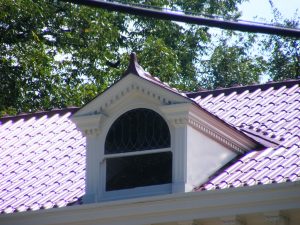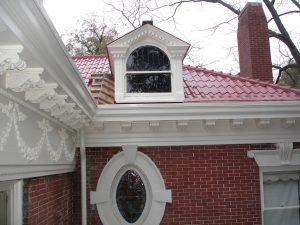 It was important to our team that we match the iconic roof tiles from the original home as close as possible. After a lot of research, we discovered Renaissance Roofing, headed by brothers in Illinois who owned an old government press. We had roofing samples of the original metal tiles hand-delivered to their firm. Once they had the original samples in hand, the brothers crafted – one by one – 4,240 pieces of galvanized steel tiles, 720 pieces of valley and eave, 257 pieces of decorative hip/ridge and 4 decorative finials. That's 5,221 meticulously crafted pieces! These pieces were ordered coated with a Kynar finish.
Tile Flooring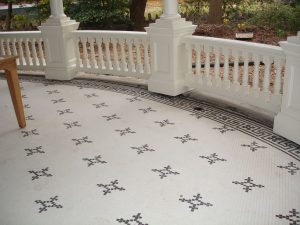 Finding a ready-made tile that was ¾" porcelain without a bevel became impossible. The tile available from manufacturers was 1" with a bevel, which a mock-up revealed looked like a floor at a fast food establishment – no thanks! After more research, we found American Restoration Tile, a custom tile manufacturer in Arkansas that made the porch tiles in a beautiful snowflake design with a Greek key border.
Portico Slab & Columns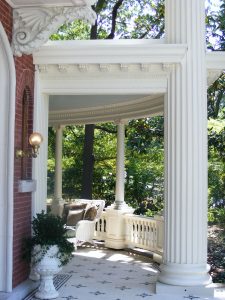 We removed the slab, then installed chance anchors and grade beams to support the new slab.
An engineering firm detailed the sizes and spacing of repairs to the structural wooden columns. We had new staves were created and hand-sanded into place to preserve the design of the tapered columns.
---
Awards
Handcrafted Homes, Inc. won the 2013 Remodeling Design Awards in the category, "Historically Sensitive Renovation Over $300,000" for this renovation.
---