Creating A Home Spa
Imagine waking up and taking a dip in a warm indoor pool, followed by a run on the treadmill, ending with a soak in the Jacuzzi – without ever leaving your home!  When the homeowners of this Lodge approached us with the task of creating a relaxing Home Spa, we jumped at the chance to make this dream a reality.
The end result was a stunning, fully-outfitted Spa and Gym.  
The Spa Bath, with curved glass, curved walls, a vanity made from a single slab of honed black granite, and angled window nook, is an oasis of pleasure. Guests can relax on the granite seat in the steam shower, listen to music, and enjoy the digital system that controls the shower, including body sprays and steam controls.
This was one part of a home remodel for a Lodge. The Lodge had a detached structure connected by a breezeway, making it the ideal location for this modern Spa. You can view more information on the Lodge remodel here, the main kitchen here, and the caterer's prep kitchen here.
---
Design & Function
Pool Features
• An indoor pool equipped for resistance swimming, a treadmill, and seats with whirlpool jets.
• An extensive sound system and TV that can be enjoyed from the pool or the lounging areas.
• A retractable pool cover and a dehumidifier to keep the Spa humidity level below 50%.
Spa Lounging Areas Aesthetics & Features
• Juice bar, which is hiding refrigerator/freezer drawers and a dishwasher. After a good workout, you can cool down with juice or a healthy smoothie.
• Hidden massage table, which folds to store in the cabinet to the left of the pool.
• The tile on the curved wall was designed in a pattern that simplified the install & accented the curve.
• This tile wall is whimsically highlighted by hanging "bocce ball" lighting at various heights.
• The cabinets to the left and right of the pool have hand-carved wooden handles and are faux painted. They contain candles, towels, pool supplies, a folding massage table, and a microwave – for warming the towels!
• High efficiency split system heat pump, tankless water heaters & spray foam insulation.
Spa Bath Features
• The shower is controlled by a Digital Thermostatic Valve (DVT) system, regulating everything in the shower from the temperature to the steam unit.
• Shower seat and piped in music.
• It has a dual flush commode, curbless shower, one-piece granite pedestal, and hanging sconces.
---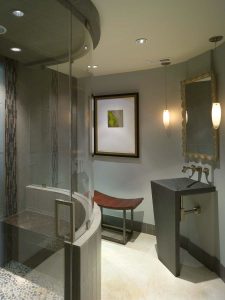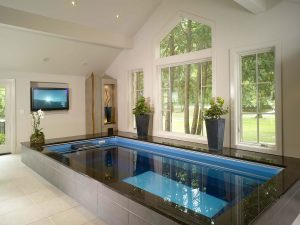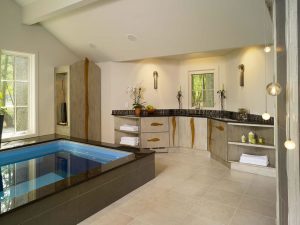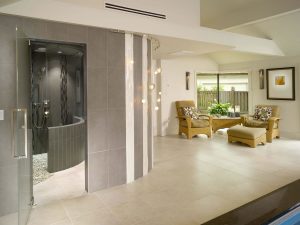 Awards
Handcrafted Homes, Inc. won the following awards for this project:
2012 NARI National, Green Project Recognition



2011 NARI Atlanta, Entire House Over $1 Million

2011 Earthcraft Renovation, Project Team of the Year
---